<![if !vml]>

<![endif]>
<![if !vml]>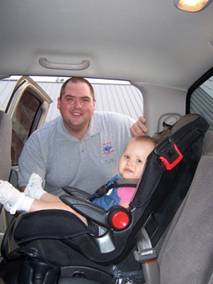 <![endif]>
District residents can make an appointment to have their child car seat(s) properly placed, secured, supported and fitted in their car. Car seat checks are conducted by National Child Passenger Safety Board certified technicians. Appointments are required. Allow approximately 30 minutes per car seat.
For an appointment contact the station 740-537-3891 or
E-mail seatsafety@tems-jad.com
What should parents expect when they get their child's safety seat inspected?
Certified technicians will conduct the child safety seat inspection, and it should only take about 20-30 minutes, depending on the seat and the vehicle. The certified technician will:
· Check the child safety seat to see that it has been properly installed;
· Remove and inspect the child safety seat for damage;
· Diagnose problems;
· Ensure the child safety seat is not a recalled model;
· Get information about children riders from the vehicle owner (size and weight of child, etc.);
· Ensure the child safety seat is appropriate for the size and age of the child;
· Teach the vehicle owner the correct procedure to properly and safely install the child safety seat in his vehicle;
· Show the parent or caregiver how to secure the child in the child safety seat; and
· Discuss other vehicles and child safety seats they own, and provide instructions to repeat the correct procedure with other seats or when installing the seat in other cars.
What are the most common child safety seat installation mistakes?
· Not using the right child safety seats for a child's size and age;
· Not placing the child safety seat in the correct direction;
· Incorrect installation of the child safety seat in relation to the vehicle's air bags;
· Incorrect installation and tightness of the child safety seat to the vehicle seat;
· Not securing/tightening the child safety seat's harness and crotch straps;
· Improper use of locking clips for certain vehicle safety belts;
· Not making sure the vehicle's seat belts fit properly across the child when using a booster seat; and
· Using a defective or broken child safety seat.